Louise Milligan – Picture credit: Simon Schluter
Writing and publishing a book about a controversial public figure is like diving into shark-infested waters ABC investigative journalist Louise Milligan said at the recent Adelaide Writers' Week. She wondered if she'd written her 2017 award-winning book Cardinal: The Rise and Fall of Cardinal Pell today, whether it would even be published. "There's a lot more caution in the publishing world. It's a defamation-happy climate." Jane Sullivan reports.
Investigative journalist, Nine's Adele Ferguson, agreed. "We have such punitive defamation laws, some of the worst in the world. People should be marching in the streets."
The Writers' Week crowd were probably not the kind to march in the streets, but they were keen that all voices should be heard and read – even the two Palestinian authors whose social media comments had led to boycotts by some sponsors and writers. Yet one of the themes of this peaceful and respectful gathering was how many voices were being silenced.
Sometimes this happened through the timidity of publishers, even with no threat of legal action. Publishing veteran Hilary McPhee said she was very concerned about the Australian industry today.
"We have fewer and fewer publishers and we have poorer and poorer books as a result. There's a lot of cautiousness and nervousness. And the larger the company, the more nervous they are." Larger companies were publishing fewer but more lucrative authors. A few smaller companies such as Upswell were taking risks, "but the big ones don't seem to me to be brave. It's terribly bad for authors."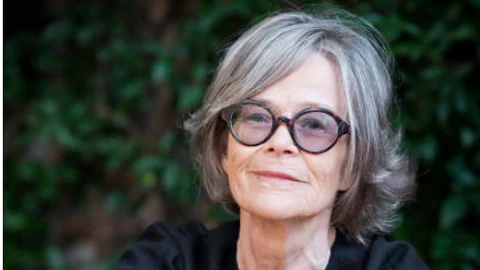 Hilary McPhee
Sometimes the authors themselves withdrew their work. Christine Wallace said she dropped her biography of Julia Gillard at the last minute because she was worried Gillard's enemies would use the book against her.
At other times, censorship came through libraries. US crime fiction writer Sara Paretsky said her country was in a really difficult, dangerous place: "Libraries and school boards are banning books that discuss lesbian or gay or trans children's experience. The race to the bottom on who can silence the most voices is really frightening."
In Australia, investigative journalists' books are particularly at risk. Novelist and lawyer Eve Thomson said that more and more defamation cases were used as ways to silence stories, and Ferguson said those ways were becoming much more creative. "Smaller institutions can't afford to fight these bullying tactics. Any time you send out questions, they can go to court. Just going to court can cost $300,000 dollars."
Ferguson's unauthorised biography of Gina Rinehart was legalled twice and she fact-checked everything, which demonstrates the lengths publishers need to take when covering a high-powered and wealthy subject.
Both Ferguson and Milligan had faced subpoenas to reveal their sources, and had they lost might have gone to prison. It was particularly hard for Milligan because the proceedings were to be held in secret. She was at the Byron Bay writers' festival promoting Cardinal when she found out. "It was all lovely, they were giving us standing ovations, and I was terrified, crying, thinking what's happening here? Who's watching?"
On top of legal decisions, they also had to be careful to make moral decisions about what they revealed: "Fair, sober, trauma-informed journalism," as Milligan put it.
After hearing about all the obstacles, it seemed a wonder that investigative expose biographies were published at all. But what were we missing? Ferguson was asked what her book on Rinehart would have been like if there were no legal restrictions. "It would have been a lot more juicy," she said.
Jane Sullivan is a books columnist and reviewer. This article first appeared in The Sydney Morning Herald.