Bread and Roses was secretly filmed with the use of multiple covert cameras in the weeks following the fall of Kabul. Picture courtesy of cinematographer Sami Murtaza.  
"You only oppress women," the young woman says to the Taliban fighter.
"I told you not to talk," he shouts back, "I will kill you right here!"
"Okay, kill me!" she replies, raising her voice to match his. "You closed schools and universities! It's better to kill me!"
A camera phone has secretly, and shakily, captured this direct confrontation inside a car between the woman and the militant.
She had just been arrested following a protest and was about to be taken to a holding cell in Kabul.
It is a scene from the documentary Bread and Roses, which explores the day-to-day lives of three women in the weeks following the takeover. The producer is the Oscar-winning actress, Jennifer Lawrence, who is telling the BBC why this moment in the film is so significant to her.
"My heart was beating so fast watching these women defy the Taliban," Lawrence says. "You don't see this side of the story, women fighting back, in the news every day and it's an important part of our film, and the stories of these women."
She says it is devastating to think about the sudden loss of control Afghan women have endured.
"They currently have no autonomy within their country. It is so important for them to be given the opportunity to document their own story, in their own way."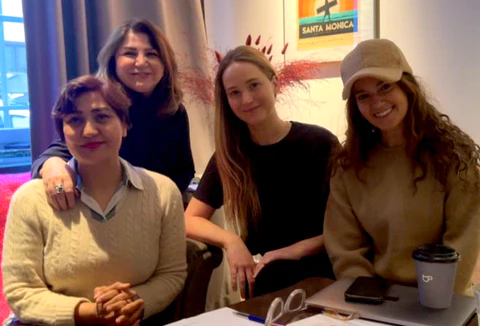 (l-r) Director of Bread and Roses, Sahra Mani, editor Hayedeh Safiyar, Jennifer Lawrence and Justine Ciarrocchi. Picture courtesy of  Excellent Cadavar, Jennifer Lawrence's production company.
The film has been made by Excellent Cadaver, the production company Lawrence set up in 2018 with her friend Justine Ciarrocchi.
"This documentary was born out of emotion and necessity," says Lawrence, who describes feeling helpless and frustrated about what she was seeing on the news.
Ciarrocchi says that Lawrence "had a seismic reaction to the fall of Kabul in 2021 because the circumstances were so dire for women".
"And she said, 'We've got to give somebody a platform to tell this story in a meaningful way.'"
That somebody was Sahra Mani, a documentary maker who co-founded the independent Kabul production company, Afghan Doc House.
Both Lawrence and Ciarrocchi had watched her critically acclaimed documentary A Thousand Girls Like Me, which profiles a 23-year-old Afghan woman who goes on national television to expose sexual abuse by her father, after being ignored by her family and the police.
Ciarrocchi tracked down Mani, who said that she had already begun a project, following three women in the country as they tried to establish some kind of autonomy in the months following the Taliban takeover, as girls and women were barred from universities and schools.
Mani filmed using covert cameras, and even asked the women to film themselves at safehouses with their friends and families.
Another sequence captures a secret meeting in a windowless basement, off a side street in Kabul. More than a dozen women sit in rows of desks and chairs, arranged like a makeshift classroom. Steam rises from the drinks in their plastic cups.
They do not know each other, but all are from different groups who protested after the Taliban retook Afghanistan in August 2021.
One of the women, a dentist called Zahra, has led the viewer to this secret meeting. When she speaks to the group, she reminisces about wearing high heels and perfume and going to the park with her friends. The women around her smile.
Then a writer named Vahideh starts speaking.
"Women must write their own history," Vahideh says passionately to the group, to murmurs of agreement. "Women are not properly celebrated around the world."
Mani was well aware of the challenges of filming in such private and dangerous situations.
"I understand how to deal with difficulties because I am one of them.
"They are not victims," she says, "they are heroes."
But getting the balance right between keeping the women safe and telling their story was not easy. She tells the BBC that there were several late-night conversations between her, Ciarrocchi and Lawrence during the production process.
"They were there whenever I faced any issues or problems," Mani says. "When women unite, everything is possible."
With Mani and the other women featured now all out of the country, the producers felt comfortable submitting Bread and Roses for wider distribution, starting at Cannes.
Ciarrocchi and Lawrence say their next challenge is to get the film in front of a large audience – not always easy when the story is a snapshot of an ongoing and devastating conflict.
"There's not an end to this story," says Lawrence, "and you feel pretty much helpless when thinking about how to do anything about it. It's a hard thing to market."
As women executive producers, Ciarrocchi and Lawrence are still in the minority in Hollywood. A 2022 study from the Center for the Study of Women in Television and Film showed that women comprised only 24% of directors, writers and producers in the top-grossing films, a decrease from 2021.
"I think there's a long, long way to go, but I do feel inspired and positive by the end product when you have more diversity in filmmaking," says Lawrence. "It's what people want. The audiences want it."
Ciarrocchi adds: "That's why we take the responsibility of Jen's platform so seriously as a woman who's giving opportunities to other women… to employ women, to tell women's stories, to always employ a diverse body of people."
"That's also because I am a woman," replies Lawrence. "I'm lucky enough to not have the biased idea that women aren't as good at things!"
This story by Megha Mohan appears courtesy of the writer ane the BBC.